Description des produits
Wheel design achieves 30-50% longer life than the original EXL wheel
Extra tough wheel composition quickly removes burrs and radiuses sharp edges but requires less pressure than standard EXL wheels, without sacrificing finish
Convolute construction keeps the wheel running smooth and produces consistent, superior results in off-hand operations
Unique resin system minimizes smearing, reducing time spent cleaning surfaces
Minimizes heat build up to reduce risk of discoloration and warping on heat-sensitiv
Premium wheel is operator-friendly and achieves outstanding performance
Exceptional Cut and Longevity, with Less Pressure
Our hard density scotch brite exl pro deburring wheel quickly deburrs stamped or laser cut parts, finishes after belt sanding, and polishes all types of metals, composites and glass. It not only achieves a super fast cut, but leaves a smooth, clean surface without smearing, reducing your need for additional cleanup and preparation. Convolute construction and clean, uniform wear keep the wheel running smoothly and produce a professional finish with less pressure, minimizing fatigue. Our scotch brite exl pro deburring wheel material runs cool and keeps fresh abrasives continuously exposed, making it a superior choice on heat sensitive substrates. The toughness of the wheel extends its service life to keep your productivity higher and costs lower.
Silicon Carbide for a Fine Finish
The scotch brite exl pro deburring wheel contains silicon carbide abrasive mineral, a synthetic mineral that is very sharp and commonly used for low-pressure applications such as paint prep. While it breaks down faster than aluminum oxide, it produces a superior finish.
The Scotch-Brite™ Advantage
Non-woven technology makes Scotch-Brite™ industrial abrasives unique. A combination of fiber strands, resin, and abrasive mineral forms a thick, open web. The spring-like nature of the fibers responds to contours and effectively removes unwanted burrs, soils and contaminants while maintaining the geometry of the workpiece, which in turn reduces rework and boosts productivity. Gaps in the web allow swarf to escape, so debris does not clog the mineral. Fibers in the web continually break down with use to reveal fresh mineral for exceptional consistency, superior cut performance and extremely long service life. Scotch-Brite products may enhance productivity while reducing the need for cleaning chemicals and wire brushes. From aesthetic finishing to weld blending, deburring and more, Scotch-Brite abrasives work fast and deliver consistent results, part after part.
Scotch-Brite™ Convolute Wheel
Application
Cleaning
Ébavurage
Mélange
Finishing
Polishing
3M General Deburring
•
•
EXL/EX2/EX3 Deburring
•
•
•
Metal Finishing
•
•
•
Cut and Polish
•
•
•
Multi-Finishing
•
•
•
Light Deburring
•
•
EXL-PRO Deburring
•
Détail du produit et spécifications principales
Application du produit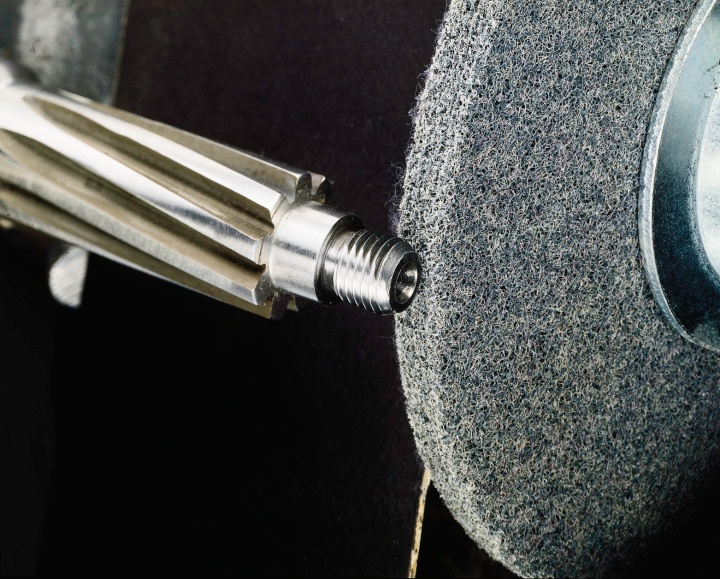 C

ertificat